FERTIPLAN – F
Women's Fertility
Wilson FertiPlan-F is scientifically formulated with essential vitamins, plant extracts, and antioxidants such as Alpha Lipoic Acid, N-Acetyl-l-Cysteine, Vitamin D, Licorice Root, and Saw Palmetto, which may help decrease the negative effects associated with Polycystic Ovary Syndrome (PCOS) and improve a woman's chance of getting pregnant. FertiPlan-F was formulated for women facing challenges in getting pregnant due to PCOS and those who are looking for a natural approach to PCOS symptoms. PCOS is characterized by ovulatory dysfunction, irregular menstrual cycle and hyperandrogenism. It may be also associated with a negative process called oxidative stress (OS), which leads to an accumulation of toxins in the body. FertiPlan-F was developed to help reduce oxidative stress, restore the normal ovulatory functions and regular cycle.
BUY NOW
Enhances oocyte quality and maturation
Helps control hyperandrogenism
Helps decrease insulin resistance in PCOS
Restores the regular menstrual cycle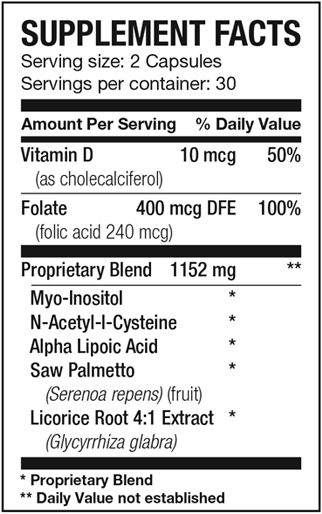 Indications:

Females who have PCOS, whether they are trying to conceive or not.
Suggested Usage:

Take two (2) capsules per day or as recommended by the health care practitioner
Storage Conditions:

Store in a cool dry place